DIFFICULT HERITAGE
Archaeology and ethnography about not always forgotten past
Students' and PhD students' scientific conference
11th-12th May 2017, Lodz
CONFERENCE PROGRAMME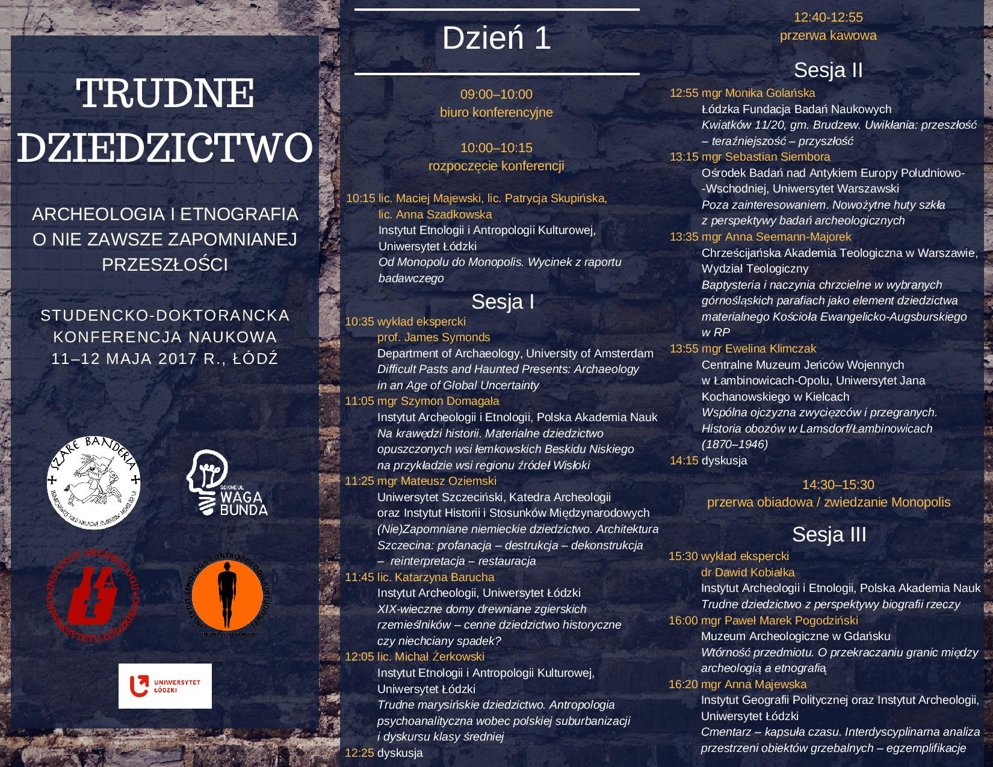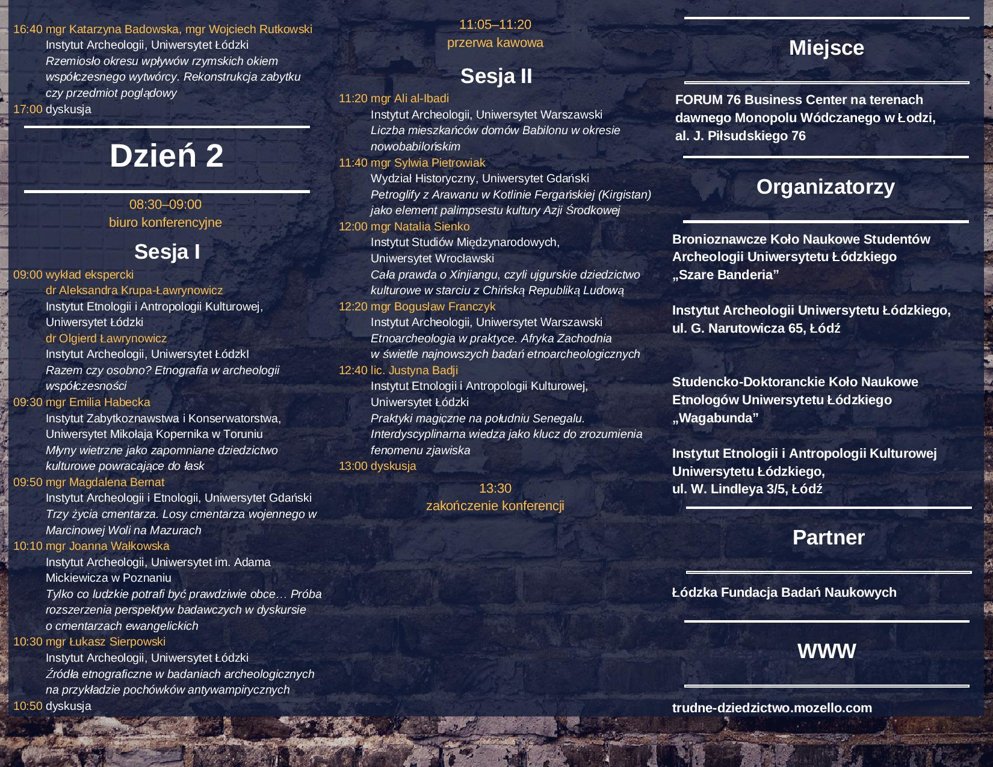 The essence of our conference is meeting of representants of archaeology and ethnography (ethnology, cultural anthropology), two scientific disciplines concerned at cultural heritage by using different methods and research toolkit. The heritage which is, in many ways, difficult: essentially, methodologically and emotionaly. The contemporary heritage and the one reaching deep into the past. The heritage we mainly treat as a field of common, multidimentional scientific interests and challenges. That is why we would like to arrange a meeting of students and PhD students, who pursue or participate in research projects based on an idea of interdisciplinarity, connecting methods and experiences of two disciplines, as well as on different, related humanities. We also invite everyone who would like to present or talk over the idea for ethno-archaeological research concerning cultural heritage and those who are interested in establishing interdisciplinar dialogue.

To make the subject of our conference more clear we propose you to follow few tracks useful concideration of concept about difficult heritage in archaeological and ethnographic perspective:
Heritage difficult to read. Interdisciplinarity as a chance or / and necessity of multiperspective description, analysis, interpretation.

How and should we study about something what is difficult to study or forbidden to study about? Restrictions of religion law, ethnical and moral principles in researches.

Heritage without heirs? Forgotten, ignored, devastated objects.

Heritage of memory. This what "disapears" when the stories fall silent.

Heritage which is not a heritage? Elements of cultural heritage which are unappreciated, unacceptabled or absent in social and scientific discourse.

Whose heritage? Ours or foreign? Maybe heritage of us all? Issues of ascribing heritage to different - existing in the past and contemporary - societies, ethnic, national and religious groups. A problem of reconstruction of the past. Do we have right to do it? What should we do to read the past but not create it?

Heritage connected with difficult or traumatic circumstances. How to conduct the research?

Productions of the past. Work with a source - material culture, memory and witnesses' experiences.

...
The list of issues and interpretation tracks is not closed. We are waiting for your proposals nad statements' subjects.
We invite you to Lodz!
Poster of our conference to download